Ace Steel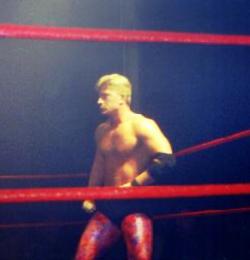 GM: How and when did you get started in pro wrestling?
AS: My parents used to take me to the International Ampitheatre to see the old AWA.
GM: What got you interested in pro wrestling?
AS: I used to wrestle w/ my Dad alot and watch Sunday morning wrestling every weekend. The showmanship and athleticism appealed to me alot.
GM: What promotions do you work for and have worked for in the past?
AS: St Paul Championship in Minnesota, GLW in Michigan , Hellfire in Michigan, ACW in Wisconsin as well as NAWA, NWA 50th Anniversary in New Jersey, MVWA and MRW in St Louis, WWF a few times...and Various other locals around the Midwest.
GM: What are your short term and long term goals in pro wrestling?
AS: My short term goal is to continue to get noticed and impress where ever I go.
AS: My long term goals are to be respected and known as a solid worker and to work guys like Dean Malenko and Chris Benoit. I of course would love to be known and working for a National company is an aspiration of mine at some point. I would definitely love to work in Japan at the Tokyo Dome.
GM: Who did you look up to in pro wrestling while you were growing up?
AS: Ricky Steamboat for sure, Arn Anderson a young Steve Austin, Ric Flair , Curt Hennig, Nick Bockwinkel. These guys have or had all of the tools to outlast and outshine anyone around during their respective heyday's.
GM: Who is your favorite person to wrestle?
AS: Lately it has been Adam Pearce, Bob Orton Jr. was fun.
GM: Can you give us a little info on the wrestling school you help run called the Steel Domain?
AS: The Domain was created by myself and Danny Dominion, my tag partner, to number 1 better ourselves and number 2 provide the most solid training in the Chicago area and nationwide for that matter.
Between myself, Dominion and Kevin Quinn we provide the best all around training from three hungry athletic competitiors that understand the importance of match theory, crowd involvement, technical wrestling and what people are looking for in the late 90's heading into 2K. We run our students to the max and wont book them out til we think they are ready physically and mentally. We stress the importance of crispness with holds , counter holds and how perfect things should look for the crowd that payed money to see you. Not everyone will become a big star...but all will know and understand that you can still be a part of this great buisness and to learn and experience just a taste of what millions are watching every Monday night and around the world.
If anyone is ready ...give Danny Dominion a call at 773-674-3888 and he will give you all the information.
GM: I hear the NWA Midwest will be running soon, will you be a part of that and what info can you give us on the NWA Midwest?
AS: I will certainly be a part of it competing in the tag division as well as a contender for the cruiserweight title. The NWA Midwest is currently working on running shows in Missouri and Southern ILLinois. Utilizing the local talent , this promotion should have one of the best indy crews around.
GM: Do you have anything you would like to plug?websites?shows?ect?
AS: In February...2/19 for ACW in Greenbay , 2/21 for StPaul Championship, 2/23 in Littlerock, Arkansas, 2/26 for NAWA in Whitewater,WI...
The Steel Domain at 773-674-3888 for the best training in the Midwest
Soon to be announced NWA dates will be added as things are being finalized..
GM: Do you have any other comments you would like to make?
AS: If you can get a chance to watch any of our crew of Chicago guys, Danny Dominion, me, Adam Pearce , Kevin Quinn, Adrian Lynch and a few others then I'm certain you will find out that all the positive press and write-ups we have been getting are right on the money. We aim to please and give you your money's worth thats for sure!!
"Blue eyes and Blond hair...got women lined up from here to there!!" Good Lookin'
Ladies...come on out and find what you've been yearning for your whole lives..