Mad Man Pondo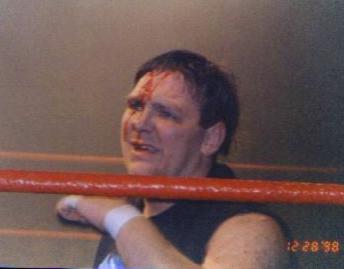 Date Interview done: 4/02/99
GM: How did you get started in pro wrestling?
MMP: As a child i went to a lot of wrestling matches live. I was always fond of the crazy guys. I told myself thats what I'm going to do. And here I am.
GM: Who did you look up to in pro wrestling while you were growing up?
MMP: The crazy ones Joe Luduc, Sheepherders, Bruiser Brody,Abdulah the Butcher.
GM: How did you get into the hardcore style that you now work?
MMP: Wanting to be a wrestler I wanted to leave a lasting impression. I got my hands on some Japan tapes. Anyone who has seen me wrestle will tell you I do just that.
GM: What are your long term and short term goals in pro wrestling?
MMP: I want to go to Japan. But in the U.S. my dream is not the WWF, or WCW. Its ECW. I think thats where I belong.
GM: Have you ever considered working for ECW? Have they ever contacted you about working for them?
MMP: I went to an ECW show in Florida at the War Memorial Auditorium and talked to Tommy Dreamer and Paul E. themselves. No bullshit, Tommy told me and Paul that I make his shit look weak. They took my phone number but I never heard from them. I'm still hopeful, though.
GM: Who are your favorite people to wrestle?
MMP: Ian Rotton,Ox Harley, and Pete Madden
GM: What was it like to have a match with Abdullah the Butcher?
MMP: A long time dream come true. I never thought growing up I would have the honor or privledge of wrestling a hardcore legend like Abdullah the Butcher. I was smiling after he pulled out the fork. Strange but true.
GM: Whats the worst injury you've had in pro wrestling?
MPP: It would have to be the fractured skull I had. It messed with me for 2 months. Or jumping off a 25 ft balcony and coming striaght down on my knee. Or when I dislocated my jaw so bad it came out of place. I had to have Ian prop my jaw up against a locker door and push it back in. But after all of these I never missed a booking and always wrestled 110 percent. Call it balls or stupidity. I had bills.
GM: What advice would you give to someone looking to get into the wrestling business?
MMP: Someone asked me one time how much it cost me to get into wrestling. I told them "my wife and kids". I love this sport, dont get me wrong. But don't let it take over your life. To me its like Cocaine or heroin. I can't get away from it and no one better get in my way. I don't tell you this to keep you out of this buisness, just don't make the same mistakes I did. Get a full time job, support your family. And do it in moderation. Also don't just let anyone train you. Getting started with someone who dosen't have any clue what he's doing but offers cheap help isn't doing you any good. Take it from me. But if you do get in wrestling respect and love it as I do, just be careful.
GM: If you could pick anybody to wrestle who would it be?
MMP: Mick Foley, Terry Funk, and Kevin Sullivan
GM: Is there anything you would like to plug? shows? websites? ect?
MMP: I will be appearing on REAL TV soon. Watch for that. I have my own T.V. show called Skulltalk, where two heads are better than one. It features wrestling and topless chicks, what more could a guy ask for. I'm also selling a video tape called: "Mad Man Pondo and the women of Skulltalk". Anybody interested can e-mail me at address at bottom of the page. Any promoters looking for hardcore wrestlers can also e-mail me at the addy below. Or if you just want to drop me a line, or have handheld videos i can use on skulltalk, or have women willing to get topless(over 18) also e-mail me.
Email Mad Man Pondo at: MMP-N-D-HOUSE@webtv.net